Our specialist
Meet our best experts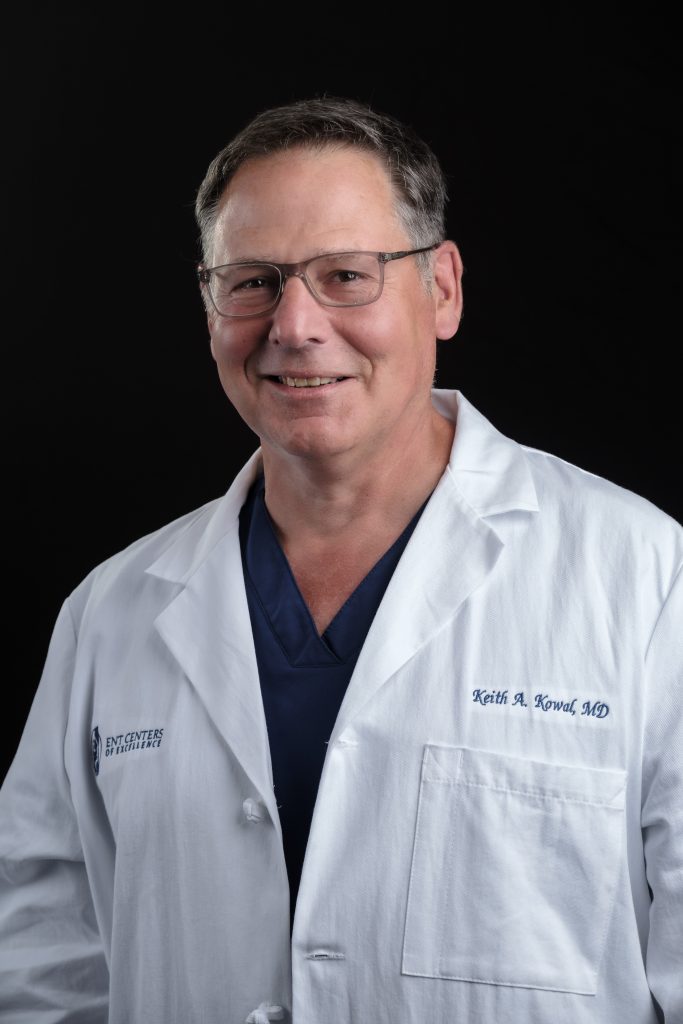 DR. KEITH KOWAL
Board Certified in Otolaryngology & Sleep Medicine
Dr. Keith Kowal opened the doors of ENT Centers of Excellence in November 2015 after moving to Baldwin County from Atlanta, GA with his wife and young children. Dr. Kowal's educational career began at Syracuse University where he earned a Biomechanical Engineering degree and graduated Summa Cum Laude. He then moved to Boston where he obtained his Medical Doctor Degree from Tufts Medical School. After completing his residency at the University of California at Irvine, Dr. Kowal moved back to New York where he practiced Otolaryngology for several years. In 1992, he moved to Atlanta, GA where he specialized in evaluating and treating pediatric and adult patients.  Dr. Kowal's expertise lie in Otolaryngology, Head and Neck Surgery, Allergy and Sleep Disorders. Dr. Kowal relocated to Baldwin County in 2015 because of the need of services in Allergy, Sleep Medicine, and ENT/Head & Neck surgery. When he is not treating patients, Dr. Kowal enjoys golf, tennis, hunting, fishing and spending time with his family.
Dr. Ashwin Ananth
ENT Centers of Excellence is proud to welcome Dr. Ashwin Ananth!  Dr. Ananth grew up in Shawnee, Kansas, and decided to follow his mother's career path in medicine.  He attended Washington University in St. Louis, Missouri where he played competitive rugby and tennis.  It was there he met his future bride, Dr. Amy Ananth, who specializes in dermatology.  Dr. Ashwin Ananth completed his medical school training at the University of Kansas and at Tulane University.  At Tulane, he completed his residency in Otolaryngology and Head & Neck Surgery as well as obtained an M.B.A. from the Tulane University Freeman School of Business.  Dr. Ananth just recently completed his Fellowship training in Sleep Medicine and Advanced Surgery for Sleep Apnea at the prestigious Thomas Jefferson University in Philadelphia, PA.  He has authored and co-authored numerous scientific publications and multiple textbook chapters and is a national medical orator for various medical conferences and meetings.  Dr. Ashwin and Dr. Amy moved to the Eastern Shore in July 2021 and also just welcomed their third child a couple of weeks prior to moving from New Orleans.  He is excited to begin his medical career here where he will be treating people of all ages for most all general ENT and Sleep Medicine issues.  In his spare time, he enjoys spending time with his wife and three children: Ava, Kiran, and Baby Jack.  He also enjoys inshore and offshore fishing, grilling, gardening, and cheering for the New Orleans Saints.  We are thrilled he has made ENT Centers of Excellence his work home and we are sure you will too!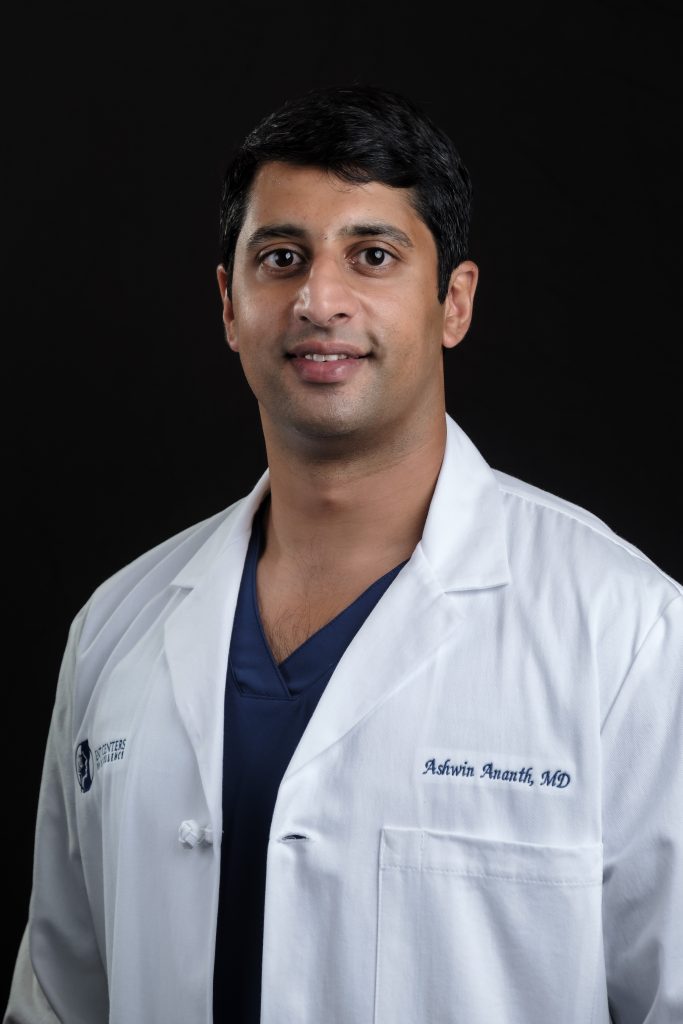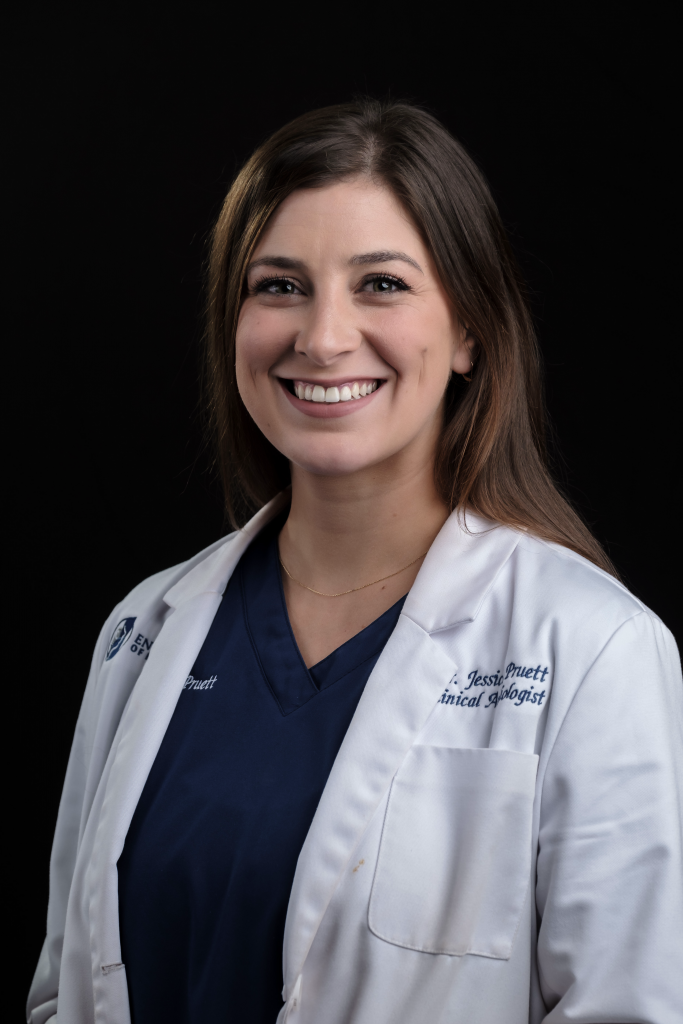 Jessica Pruett, AU. D.
ENT Centers of Excellence welcomed Dr. Jessica Pruett in December 2019. Originally from Birmingham, AL, Dr. Pruett moved to the Gulf Coast in 2010 to pursue a career in audiology. She earned a Doctor of Audiology degree, as well as a Bachelor's of Science degree in Speech and Hearing Sciences from the University of South Alabama. Her audiology studies with USA took her abroad to Durbin, South Africa where she evaluated and treated underprivileged pediatric and adult patients. In January, Dr. Pruett was awarded "Best Audiologist of 2021" for Baldwin County through Gulf Coast Today's Big, Beautiful Baldwin's Best. She is licensed by the Alabama Board of Examiners for Speech Language Pathology and Audiology and specializes in adult and pediatric hearing exams, hearing aids, and vertigo testing. Dr. Pruett is well-versed in the hearing aid landscape and enjoys keeping up with the latest technologies available in order to improve patients' lives through better hearing. When Dr. Pruett isn't helping her patients with better hearing she enjoys spending time with her daughter, exercising, and traveling.